Written By: Mark Russell
Partner
Orchard Street Investment Management
---
Mark Russell of Orchard Street Investment Management spells out the benefits of adopting a responsible investment approach to real estate
---
Real estate has long been recognised as providing a vital role in diversifying the risks of a multi-asset portfolio. Popular with pension funds for the stable income streams it generates, when managed well property can also grow in value and provide a partial hedge against inflation. In recent years interest in real estate has increased as yields on other asset classes have fallen, and at today's pricing property offers an historically high yield premium relative to Gilts.
So, pension funds like property and portfolios have been constructed with a view to delivering steady, consistent income. Long leases to financially strong tenants have commanded the strongest prices and have demonstrated resilience through downturns. But what of the new risks approaching and will property assets be equipped to respond?
Real estate as more than an investment
Real estate, and the built environment, shapes our lives. It is where we live, where we work, where we educate our children and where we care for the infirm. It is where we "connect". It is also where we relax, where we exercise and where we "disconnect". It is all around us.
Buildings have long life spans, sometimes measured in centuries. Most of the UK's existing building stock is decades old, and much of what we will occupy from now until the day we die has already been built.
This is not a problem per se, until we consider whether our buildings are performing to their potential. Is a building facilitating the needs of its users and the wider community in which it sits? Does it support economic and social wellbeing? Is it even a healthy place to be? In other words, is it relevant? Sadly, all too often the answer to these questions is no. New research is emerging showing the impact that poorly designed and maintained buildings can have on the health and productivity of users. The costs of "sick" buildings are very real; a Harvard study estimating that they can be up to $6,500 per person per annum higher than a "healthy" building. (Source: John D MacComber 2021.)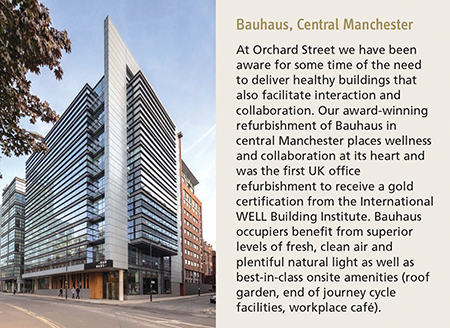 The issue of carbon emissions is commonly referenced, but the statistics are startling. So many of our buildings were conceived in the days long before the concept of global warming was ever considered. The thermal efficiency of buildings, their energy intensity and their carbon emissions are relatively recent concepts, and development of most of the existing building stock predates any thoughts in that regard.
The opportunity… the "carrot"
Let us look at the opportunity first. Searching questions need to be asked as to the role a particular building should fulfil – without our thoughts being anchored to what it "has been". For this assessment to be meaningful an understanding of a location's needs is required. Identifying these place-based needs is identifying the opportunities to pursue.
Repurposing obsolete real estate to meet current demands can lead to multiple benefits. Consider a town with a known shortage of affordable decent quality residential accommodation, or with a prevalence of loneliness amongst the elderly. Then ask how appropriate would it be for a nearby but long-empty office block to continue to sit idle? With the place-based needs having been identified, the opportunity to create in this case a multi-generational residential solution can be pursued. The benefits will be felt right across the demographic as life expectancy is increased, social interaction enhanced, and employment opportunities created. Vibrancy is reintroduced to the townscape and opportunities for crime are reduced. This is true responsible investment, and it is the catalyst for a virtuous cycle.
But what about carbon emissions? Well, when repurposing that empty and redundant office building, there arises the opportunity to improve thermal efficiency, reduce energy intensity, and source renewable energy – indeed to generate some of it onsite. All going a very long way to creating a net zero carbon building. With some intelligently sourced carbon offsetting alongside it will be eminently achievable to hit that coveted net zero carbon status.
The result is a wholly relevant building, that responds directly to place-based needs and is future-fit for purpose. The owners of the real estate will receive new income streams that will be sustainable in the fullest sense of the word and enhanced long-term investment performance.
The threat… the "stick"
Where there are opportunities from action there may also be risks from inaction. These are likely to result in reduced investment performance as the costs of ownership increase and both income returns, and capital values decline. This time linked to reduced relevance or potential obsolescence.
The "death of the high street" has been widely reported, and whilst overblown – not all retail is dead – the shopper today has options that did not exist a few years ago. Online retail has emerged as a competitor to the physical shopping trip – for some things. The lure of a day out shopping and lunching in a pretty market town or cathedral city will continue to hold appeal for many, but for repeat purchases of mundane essentials the convenience of the internet is hard to beat. The retail market is starting to understand that to be relevant it must perform a required function. Be clear in your offer of either "experience" or "convenience" and you stand a chance of thriving. Fail to offer either and the chances are that you have already been forgotten.
Offices could face a similar threat with new competition coming in the form of "working from home" or "working from some other place". The pandemic lockdowns have demonstrated that for certain tasks and for certain people, working remotely (be that in a study or spare bedroom) for some of the time can work just fine. No longer can it be assumed that the office is the only place to be. Increasingly, "work" will be regarded as an activity rather than a place.
To entice office workers to undertake an arduous commute there need to be rewards. Office users will become more discerning and office buildings need to respond to remain relevant. They must provide high quality spaces appropriate to the tasks at hand. Health and wellness will move ever higher on the agenda with internal air quality, active design and health-focused (physical and mental) infrastructure being highly visible. And occupiers, be they large listed corporates with stated Corporate Social Responsibility objectives and subject to shareholder pressure, or SMEs comprised of just a few individuals, will increasingly choose healthy, net zero carbon buildings over the rest. This need not be altruism, but a recognition of the need to attract and retain staff, and to avoid potential future carbon taxes through choosing not to use high carbon buildings.
Buildings that fail to make the grade will become undesirable at best and obsolete at worst. The prognosis for investment performance is self-evident and polarised. Relevant buildings will be relatively scarce and able to charge premium rents and expect fewer and shorter vacancies. The rest? Well, the rest will be plentiful and will have to scrap it out for the low rent payers that choose to be less discerning – if they exist.