Written By: Tim Mockett
Managing Director, Property
Impax Asset Management
---
Tim Mockett of Impax Asset Management discusses the drivers that make sustainable property a convincing investment, and outlines how "Green Alpha" is generated
---
Property has proved to be an attractive asset class for investors in the low interest rate environment of recent years. In 2013, global transaction volumes1 reached near 2006 levels, totalling US$518 billion. Institutional Investors typically make allocations of 8-10% to property, but it is becoming more difficult for investors who are not sector specialists to generate desired returns. Many investors are consequently exploring and allocating to specialist strategies in their search for alpha. In sustainable property we define "green alpha" as the premium that can be generated by successful investment in sustainable property over and above the "normal" market return. We see interesting investment opportunities in the sustainable commercial property market where supply is low and demand is increasing, driven by tightening regulation and occupier preferences. These developments are well understood by local authorities as regulation in the public sector came into force before the private sector. A Display Energy Certificate (DEC) and Advisory Report are mandatory for buildings with a total floor area over 500m2 that are occupied by public authorities.
A value creation opportunity
Sustainable buildings are increasingly commanding a rental premium, have shorter vacant periods, slower depreciation and reduced obsolescence, and ultimately command higher capital values. Most new buildings are constructed to high sustainability specifications but there is considerable scope to create value for investors by adapting existing buildings from "brown to green".
The EU's 20:20:20 targets are to reduce greenhouse gas emissions by 20%, improve energy efficiency by 20% and increase renewable energy sources by 20%; all by 2020. The broader energy roadmap adopted by the EU aspires to reduce emissions to 80-95% below 1990 levels by 2050. In 2013 the UK government introduced carbon taxation on organisations consuming in excess of 6,000 MWh of electricity per annum priced at £12 per tonne.
Furthermore, the property industry is currently in consultation with the UK Government as the Energy Act 2011 places a legally binding obligation on the Secretary of State for Energy & Climate Change to tighten regulations to improve the energy efficiency of both domestic and non-domestic private rented buildings in England and Wales. These regulations must be in force by 1st April 2018, and will require all private rental properties to meet a Minimum Energy Standard or Energy Performance Certificate (EPC) of E.
Figure 1: EPC certificates by rating in England and Wales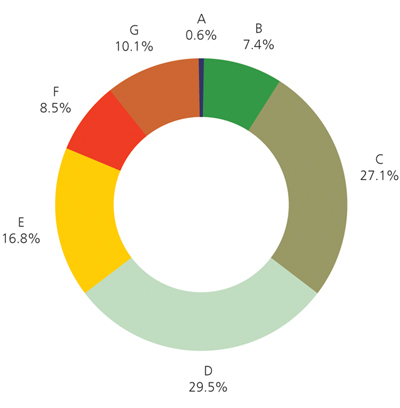 Source: Landmark, Spring 2013 (Note this is data for all asset classes from registered EPC's. The property Industry estimates that up to 20% of buildings may not even have an EPC Rating)
EPC ratings have by law to be displayed on letting and sales particulars and are colour coded ranging from A-G. Property consultants DTZ estimate that 24% of offices in the UK have a rating of F or G. By 2018 these will be deemed as unlettable subject to any transition arrangements that are part of the current consultation. This will have serious valuation issues for the commercial property sector.
Occupiers are becoming increasingly discerning in the management of their liabilities and their total occupation costs. Buildings that are demonstrably resilient in terms of building fabric, location and income streams are, in effect, future-proofed and more attractive to occupiers and owners. Sustainable buildings generally offer more attractive working environments, helping to attract and retain staff, while also ensuring that brand integrity and corporate and social responsibility objectives are achieved.
Our approach
We have historically invested in locations that are non-car dependent and that have the potential to deliver top quartile resource efficiency results. Sustainability related considerations include energy consumption and ratings, materials, location and transport, water (consumption and flood risk) waste, pollution, and the quality of indoor environments. We also risk manage away from the physical aspects of climate change for example flood risk.
There is a compelling investment opportunity to upgrade existing buildings to the latest environmental standards. An existing property with a poor G Energy rating can be brought up the scale, (to say a C-D rating), through core energy efficiency measures. The relative costs of retrofitting these improvements are reasonable and proportionate to the underlying value. The payback period is typically three to five years. These upgrades can include installation of LED lighting, new heating, lighting and cooling controls and smart meters to maximise the efficient use of energy. We measure and manage energy, water and waste systems which are generally ISO 14001 accredited and this frequently requires collaborative engagement with occupiers. These sustainability interventions are benchmarked annually by the Global Real Estate Sustainability Benchmark (GRESB).
Furthermore, the Investment Property Databank (IPD) is working on a sustainability-focused benchmark (ECOPAS) which aims to quantify the link between financial performance and sustainability. The GRESB chart below demonstrates the relationship between Implementation and Measurement and Management and Policy.
Figure 2: The GRESB Quadrant Model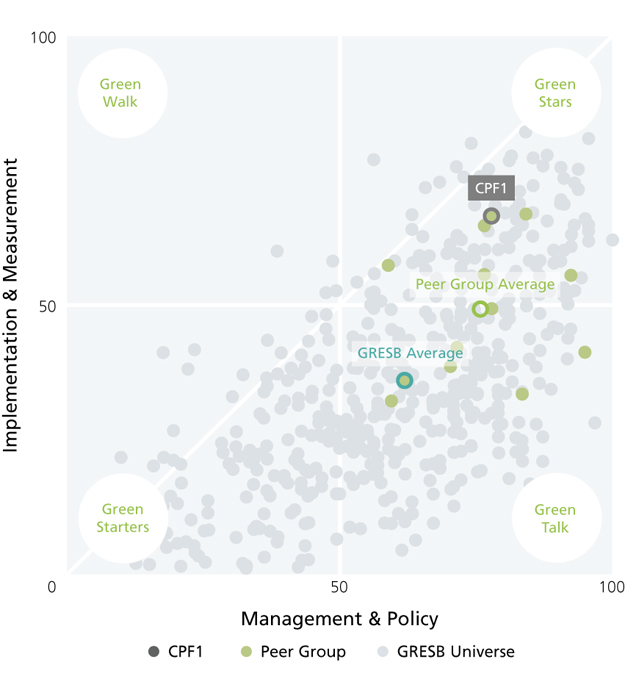 Source: http://www.greenriver.com/work/gresb/
The GRESB Quadrant Model
We have proven access to the market and see increasing opportunities to invest as legislation and occupier demand strengthen in an improving UK economy. On the new build side there will also be opportunities for joint venture developments with both developers and major occupiers.
Sustainable property is a rapidly emerging asset class in its own right, and investor interest continues to gather momentum as the opportunity to generate green alpha becomes recognised. The demand for sustainable buildings outstrips the demand, driven by occupier preferences, investor demands and ever tightening buildings energy efficiency regulations. We believe that the sector will continue to expand and we see many interesting investment opportunities emerging.
---
1. Source: DTZ, Money into Property, Global 2014.
Published: August 1, 2014
Home » Sustainable property – a significant value creation opportunity
Real Assets