Written By: David Crawford
Co-Head of Institutional & Wholesale Distribution UK
Nordea Asset Management UK
---
David Crawford of Nordea Asset Management UK shows that global real assets and infrastructure have a vital role in improving energy efficiency, reducing consumption and generating a positive impact on the environment
---
In light of rising geopolitical tensions, accelerating inflation and recession fears, traditional methods of diversification are failing to work as both bonds and equities have been hit hard. As a result, the volatile and uncertain market environment has been pressuring investors, who are more than ever wondering where to turn.
Meanwhile, the climate crisis still looms large and it remains one of the biggest existential threats facing humanity. Since the Russia/Ukraine conflict began, energy and other commodity prices have soared, triggering broader economic impacts and significant disruptions in multiple markets. At the same time, the crisis has also been driving a renewed focus on the urgency to innovate and reduce our reliance on fossil fuels in the longer term, cut our energy usage, and adopt every method we can to address the climate crisis.
How can we achieve this?
In order to move towards energy independence and improve energy efficiency it is crucial to accelerate the shift to renewable and alternative generation within power generation, industrial processes, building structures, and transportation systems. For instance, smart building systems can significantly reduce power consumption and increase energy savings, cutting costs and reducing their environmental impact. How? Let's consider for instance sustainable housing: green building materials, techniques, and appliances can reduce energy consumption by an average of 33%¹.
Overall, infrastructure (such as utilities and transport) as well as real estate will play a crucial role in driving this change. Industries in these sectors are responsible for half of all carbon emissions, and they currently make up nearly three-quarters of the current capital spend directed towards decarbonisation, improving energy efficiency, and promoting lower-carbon economic growth². They are installing solar farms, upgrading transmission lines, and improving building energy efficiency. Therefore, it becomes evident that global real assets – infrastructure and real estate – are at the forefront of net zero action and can be a significant part of the answer to address these current global challenges.
Sustainable listed real assets: a real solution for real challenges
1. A defensive asset class positioned to outperform: Besides the real assets' well-known ability to deliver a meaningful impact in accelerating the energy transition and improving energy efficiency, they also provide investors with resilient and attractive returns, a high level of inflation protection and attractive valuations. Being underpinned by essential needs – housing, power, transport, communications – rather than optional desires, listed real assets provide resilient income streams that provide a strong bedrock of stability during economic stress. Real assets often exhibit contracted or regulated returns. This frequently gives them the ability to pass on inflation to their customers or end users. Whether the asset is part of the real estate universe, where property values and rents tend to rise with the overall price environment due to rising costs of labour, land and materials, or part of the infrastructure universe, where the vast majority of cash flows and asset values may have direct or indirect links to inflation, inflation protection is an embedded feature of real assets. So it comes with little surprise that real assets have historically outperformed global equities during periods of above-average inflation.
Figure 1: Average annualised relative performance: Global real assets' degree of outperformance vs. Global equities has varied during different inflation periods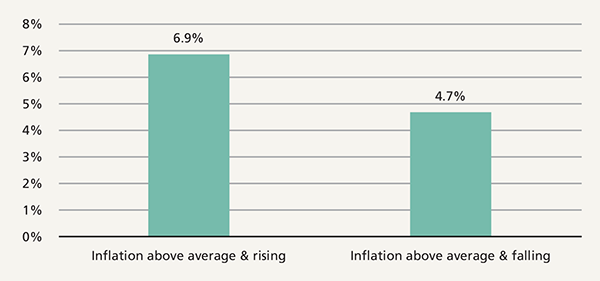 Source: CBRE Investment Management, U.S. CPI, UBS Global Infrastructure & Utilities linked to FTSE Global Core Infrastructure 50/50 Index, FTSE EPRA Nareit Developed Index, MSCI World Index as of 30.06.2022. Trailing 20-years based on average monthly total returns during inflation regimes, annualized. Inflation Regimes calculated using the year-on-year change in the U.S. CPI, normalizing its history using a z-score, and tracking the 3-month moving average of that z-score. The Inflation Regime is determined by both the level and the change in the indicator, requiring two months in the same cycle in order to confirm a new regime. The performance represented is historical; past performance is not a reliable indicator of future results and investors may not recover the full amount invested. The value of your investment can go up and down, and you could lose some or all of your invested money.
Due to the unique combination of durable returns and secular growth, real asset cash flows have proven to be resilient amidst slowing economies, to act like a shield during high inflation periods, and to outperform over the long term. Over the last year, as an example, we have witnessed a period of immense macro stress, and real assets have outperformed global equities and bonds. The same pattern has been seen over the last 20 years with financial markets navigating through multiple cycles.
Figure 2: Real assets, global equities, and inflation growth over time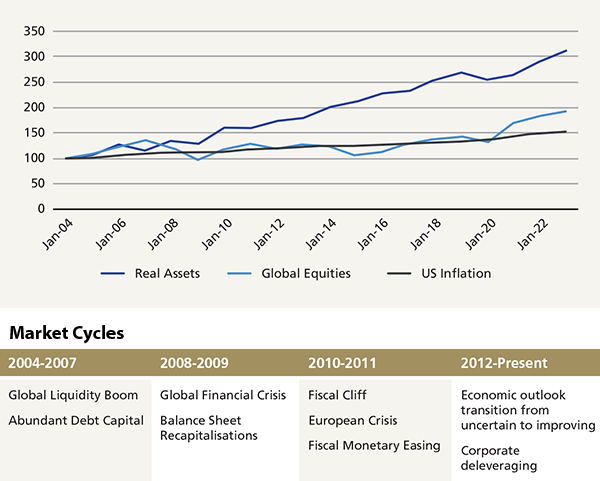 Source: Global real assets are represented by CBRE Investment Management Infrastructure investable universe and the FTSE EPRA/NAREIT Developed Index, Global Equities: MSCI AWCI Index and U.S. Inflation: U.S. Consumer Price Index data as of 12/31/2021. 2021 is preliminary. The performance represented is historical; past performance is not a reliable indicator of future results and investors may not recover the full amount invested. The value of your investment can go up and down, and you could lose some or all of your invested money.
2. An irreplaceable role in the global ESG revolution: As just illustrated, listed real assets bring valuable inflation support to portfolios as well as resilience in stressed markets. Nonetheless, they are also essential to develop energy solutions that will reduce reliance, fight climate change, and hence pave way to an inclusive green economy.
Global real assets can indeed have a tremendous positive impact for society. Critical infrastructure on which society depends is typically very costly to build. However, the investment in such facilities can have a significant impact on communities' health, employment, and quality of life. Global utilities are replacing fossil fuel power generation capacity with less carbon-intensive options, and upgrading water processing/distribution systems. In communications and transport, companies are enabling telecommuting, optimising logistics, and reducing congestion. Overall, real assets are investments that can tackle and have a positive impact on the UN Sustainable Development Goals.
Figure 3: Real assets are tackling the UN Sustainable Development Goals (SDGs)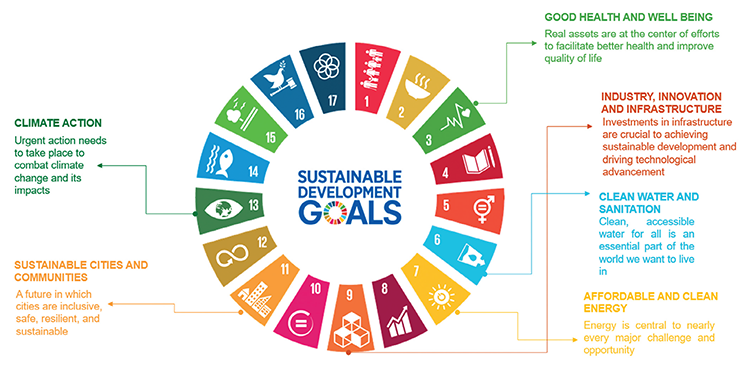 Source: United Nations Sustainable Development Goals, https://www.un.org/sustainabledevelopment/sustainable-development-goals/
Furthermore, not only can sustainable real assets benefit from the crucial role they play in meeting the pressing need for energy transition, they will also benefit from other long-term secular tailwinds.
Environmental stewardship: the demands of a growing population have put enormous pressure on global resources. Therefore, it is critical to invest in sustainable assets that help to protect the planet. This includes, for instance, wind and solar hydropower, clean water and sanitation and green housing and building efficiency – in total, 65 trillion USD is needed to support environmental stewardship over the next two decades³.
Societal stewardship: Changing demographics are bringing changing needs, ranging from affordable housing, clean urban living, medical offices, elder care, and road networks to ease congestion and support commuters. Currently, 60% of all global emissions are produced from cities, where over half of the global population resides. Retrofitting these cities with more energy-efficient solutions while also creating a higher accessibility, affordable housing and healthy environment is not only a pressing social need, it also represents a huge investment opportunity.
Disruptive technological innovations like cloud computing, cybersecurity and artificial intelligence are leading to a huge upward shift in the demand for digital infrastructures. This upward trend is expected to continue, boosted by the fast-growing volume of data created. By 2025, every person in the developed world will have at least one "interaction" with a data centre every 18 seconds of their lifetime and data centres will consume 20% of the world´s power supply⁴. Given the astronomical amount of digital information that the world is set to generate, it is vital to call for a more sustainable and energy efficient future of digital infrastructure.
All in all, when we look at sustainable listed real assets we find an undeniable value proposition: an historic track record of resilient returns and the ability to invest in society's sustainable future.
---
Nordea Asset Management is the functional name of the asset management business conducted by the legal entities Nordea Investment Funds S.A. and Nordea Investment Management AB ("the Legal Entities") and their branches and subsidiaries. This document is advertising material and is intended to provide the reader with information on Nordea's specific capabilities. This document (or any views or opinions expressed in this document) does not amount to an investment advice nor does it constitute a recommendation to invest in any financial product, investment structure or instrument, to enter into or unwind any transaction or to participate in any particular trading strategy. This document is not an offer to buy or sell, or a solicitation of an offer to buy or sell any security or instruments or to participate to any such trading strategy. Any such offering may be made only by an Offering Memorandum, or any similar contractual arrangement. Published and created by the Legal Entities adherent to Nordea Asset Management. This document is furnished on a confidential basis and may not be reproduced or circulated without prior permission and must not be passed to private investors. This document contains information only intended for professional investors and eligible investors and is not intended for general publication. © The Legal Entities adherent to Nordea Asset Management and any of the Legal Entities' branches and/or subsidiaries.
---
1. Source: EPA – United States Environmental Protection Agency
2. Source: Global Infrastructure Hub and International Renewable Energy Agency (IRENA)
3. Source: Global Infrastructure Hub and International Renewable Energy Agency (IRENA)
4. Source: Digitalinfranetwork, June 2022.