Written By: Alex Greaves
UK Residential Fund Manager
M&G Real Estate
---
Alex Greaves of M&G Real Estate describes how shared ownership works and explains its potential as an investment at a time when occupier demand is likely to be greatest where house prices are least affordable
---
Shared Ownership is gaining traction as an attractive, low-risk, long-term investment proposition, underpinned by the long-standing supply/demand imbalance in the UK housing market and significant affordability constraints across parts of the UK. Barriers to home ownership are high and the Private Rented Sector (PRS) is growing, together with rising demand for new, flexible living solutions.
The concept of Shared Ownership is by no means new – it was introduced as long ago as 1979 – but, until recently, delivery was extremely constrained, limiting access for investors. According to latest figures, there are just 180,000 Shared Ownership units in England, representing 0.8% of total UK housing stock1. However, the sector has the potential to grow significantly and professional investors with institutional expertise in residential investment are ideally placed to tap into the burgeoning market.
Shared ownership in more detail
To fully appreciate the potential of Shared Ownership as an investment it is important to understand the underlying concept, which is to help aspirational homeowners who cannot buy a property outright. By partnering with an investor that purchases and co-owns their home, occupiers are able to gain a foothold on the housing ladder, while the investor benefits from secure, long-dated income delivered with low volatility, in addition to house price growth exposure. From an occupier perspective, Shared Ownership is ideal for first-time buyers, who purchase a share of a new home with (or without) a traditional mortgage and pay a reduced rent on the remaining share. The initial share purchased by the occupier will be at least 25% (and up to 75%) of the property value and can be increased over time up to 100%.
The investor retains the remaining equity share and also receives an inflation-linked rent typically set at 2.75% of the market value of that share. The investor also benefits from any capital value appreciation of their share over time, in addition to the diversification benefits of a low correlation with equities, UK Gilts and UK commercial property.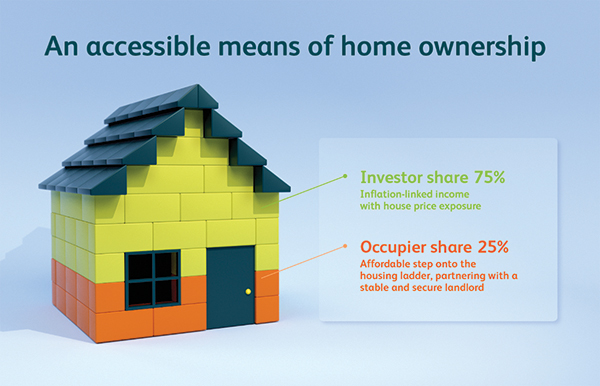 Demand drivers
Shared Ownership is underpinned by strong demographic drivers. Demand for housing will continue to rise as the UK population keeps growing (by 0.5% per annum between 2018 and 2027) and household size falls. The government estimates that 300,000 new homes need to be built annually. However, supply is lagging behind, with just 194,830 homes built in 2017. The resulting long-standing supply and demand imbalance will place further upward pressure on house prices and rental growth.
Housing affordability remains stretched in all parts of the country, particularly in London and the South East, as well as large employment hubs in the Bit Six regional cities. The average house in London costs nine times a typical worker's gross earnings; well above the long run house price-to-earnings' (HPE) ratio of 5.5x.
As such, getting a foothold on the housing ladder remains challenging and first-time buyers are likely to continue to struggle without additional financial support from the 'Bank of Mum and Dad' or schemes like Help to Buy (which is expected to end in 2023) and Shared Ownership.
Recent government policy has been supportive of Shared Ownership, as policymakers recognise the sector's ability to tackle the UK's affordable housing shortage. The recent budget introduced stamp duty exemption for properties up to £500,000, for example.
Why invest in Shared Ownership?
With demand potentially substantial, it is becoming increasingly clear that Shared Ownership is not a short-term trend. Rather, it has the potential to become a mainstream housing tenure, accessible to the vast majority of UK households. Furthermore, Shared Ownership offers a scalable investment opportunity that is particularly attractive to the growing number of investors who are turning to alternative residential sub-sectors to diversify portfolios towards reversionary investments. They are likely to be best-served by institutional managers who have a solid track record of raising capital in complementary sectors, including commercial property and PRS, and are therefore ideally placed to realise, on behalf of their clients, the secure, reliable, long-term, indexed-linked income that Shared Ownership can deliver.
---
The value of investments will fluctuate, which will cause fund prices to fall as well as rise and you may not get back the original amount you invested.
For Investment Professionals only.
The distribution of this document does not constitute an offer or solicitation. Past performance is not a guide to future performance. The value of investments can fall as well as rise. There is no guarantee that these investment strategies will work under all market conditions or are suitable for all investors and you should ensure you understand the risk profile of the products or services you plan to purchase. Information given in this document has been obtained from, or based upon, sources believed by us to be reliable and accurate although M&G does not accept liability for the accuracy of the contents. M&G does not offer investment advice or make recommendations regarding investments. Opinions are subject to change without notice.
This financial promotion is issued by M&G Investment Management Limited, registered in England and Wales under number 936683, registered office 10 Fenchurch Avenue, London EC3M 5AG. M&G Investment Management Limited is authorised and regulated by the Financial Conduct Authority. M&G Real Estate Limited is registered in England and Wales under number 3852763 and is not authorised or regulated by the Financial Conduct Authority. M&G Real Estate Limited forms part of the M&G Group of companies.
---
1. Source: National Housing Federation (NHF), March 2019.